Upcoming 60th Anniversary!! 2 DVD Box Set including Building the Mighty Mac and Before the Bridge - Documentary Films. For the 2017 season, the set c omes in cases of 24 for $240.00 with Free Shipping. Home Mighty Mac Films Produces and Distributes a 2 DVD Box Set Edition of the Documentary DVDs. Beaconsfield High School is hosting a reunion Oct. Photo by John Mahoney / Montreal Gazette Beaconsfield High School is throwing a Diamond Jubilee Reunion bash Oct. 19-20-21 to celebrate the. Read our list of Fleetwood Mac's 50 greatest songs, stretching from their 1960s origins up through their 2013 reunion. Beach Boys Contemplate 60th Anniversary Celebration.
Miles Macdonell Collegiate

The 4 points on the compass stand for Direction, Exploration, Inclusion, and Compassion.

Address

, ,

Coordinates

49°55′26″N

97°05′45″W

/

49.9240°N 97.0957°W

Coordinates:

49°55′26″N

97°05′45″W

/

49.9240°N 97.0957°W

Information
School type
Public high school
Founded
1952
School district
River East Transcona School Division
Principal
John Muller
Grades
9 - 12
Enrollment
1186
Language
English, French Immersion, Spanish, Japanese
Colour(s)
Green, gold & white
Mascot
Buckeye (nut)
Team name
Buckeyes
Website

www.mmc.retsd.mb.ca
A Miles Mac Football Helmet
Miles Macdonell Collegiate is a high school in Winnipeg, Manitoba that opened in September 1952 and is part of the River East Transcona School Division. It is one of the six schools in Manitoba that participate in the International Baccalaureate Program. The school offers classes in French Immersion geared towards university attendance in either official language. Miles Macdonell also offers several vocational tracks of study, including cosmetology (hairstyling and nail care). Students may also complete a dual diploma, earning both an academic high school diploma and technical/vocational certification.
The school is named after Miles Macdonell who, as the first governor of the Red River Settlement, led the Red River Settlers in 1812 and reported directly to Lord Selkirk, founder of the settlement. He is commemorated with a plaque that can be found just inside the front doors on Roch Avenue.
Music Program
[

edit

]
Several albums have been produced in the school, mainly consisting of the school's choir program and their prestigious vocal group called 'Prodigy', consisting of a small number of talented singers. Prodigy has performed in various countries, including Scotland, Austria, Mexico, and the United States. When Queen Elizabeth II came to Winnipeg in 2003, Prodigy was asked to perform for her, as well as performing at the International Peace Gardens for the 5th anniversary of 9/11.
Festival Théâtre Jeunesse
[

edit

]
On May 8, 2008, a group of students from the French Immersion program participated in the annual Festival Théâtre Jeunesse at the Centre Culturel Franco-Manitobain (Franco-Manitoban Cultural Centre). The group performed a piece titled 'Le long voyage' (The Long Voyage), which won the top prize in the General Production category.
The Tunnel
[

edit

]
Miles Macdonell Collegiate was originally two separate schools and therefore occupies two main buildings. The north wing was originally Melrose Junior High which existed from 1954 to 1962. These buildings are linked by a hallway which, although it is above ground, is referred to as 'The Tunnel'. It was built in 1970 replacing a smaller 10 foot wide tunnel built in 1964. The Tunnel not only connects the two buildings, but is also home to the library, the arts room and the theatre.The original part of school, the present science wing, was built in 1952. It was followed by a 1955 addition, the south wing second floor, and a 1960 addition which added a gym and the school east of the tunnel. The former Melrose Junior High building became part of the school in 1962 and the current theatre, library and tunnel were added in 1970. In the 2010-2011 school year, two elevators were added to allow wheelchair access to the north and middle section second floors.
Alumni Association
[

edit

]
The Alumni Association of the collegiate began coalescing in 1997 in preparation for a 50th anniversary reunion in 2002, and was officially incorporated as the "Miles Macdonell Collegiate Alumni Association" in 2003.
In 2002, a group of alumni created a trust fund which has raised over $88,000 for the collegiate as of February 2019.
References
[

edit

]
'When The Work's All Done This Fall', McIntosh, 1989, p. 217
External links
[

edit

]
Retrieved from 'https://en.wikipedia.org/w/index.php?title=Miles_Macdonell_Collegiate&oldid=993755247'
December 13, 2004 - Veterans remember Battle of the Bulge. Members to commemorate battle's 60th anniversary
106th Infantry Division had slogged its way across France, fresh reinforcements for the Allied nations' anticipated final assault on Nazi Germany that would end World War II in Europe.
'We figured the war was getting close to an end,' Junction City lawyer Bill Stahl said last week. 'And everybody was saying that soon we'd take Berlin.'
Two weeks before Christmas, the 106th Infantry Division's 422nd Battalion, which included the then-18-year-old Pfc. Stahl, took up positions along a 27-mile front deep in the Ardennes Forest, only a few miles from the German frontier.
Magix keygen serial free.
Mike Shepherd/The Capital-Journal

Junction City native Bill Stahl, a member of the Army's 106th Infantry Division, landed in France just a week before the Battle of the Bulge, a German counter-offensive during World War II. Stahl will be hosting a reunion of Kansas Battle of the Bulge veterans on Thursday, the battle's 60th anniversary.
But more than half of the 14,000 U.S. troops attached to the 106th Infantry, including Stahl, didn't really celebrate Christmas that year. On Dec. 19, 1944, Stahl was captured by German troops, three days after Nazi leader Adolf Hitler had unleashed a surprise 250,000-man counteroffensive that quickly broke through Allied positions in the Ardennes. The resulting military engagement became known as the Battle of the Bulge, which stands as the biggest and costliest military battle in U.S. history, historians have noted.
Six decades after the battle, Stahl has organized a 60th anniversary Battle of the Bulge reunion of Kansas-area members of the 106th Infantry, an event scheduled for 11:30 a.m. to 3 p.m. Thursday at Coyote Canyon restaurant, 1251 S.W. Ashworth Place, in Topeka.
Miles Mac 60th Anniversary Reunion Pictures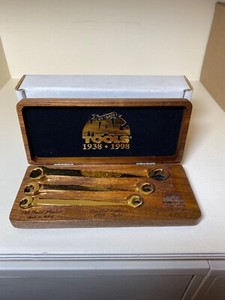 REUNION
Who: The Army's 106th Infantry Division
When: 11:30 a.m. to 3 p.m. Thursday
Where: Coyote Canyon restaurant, 1251 S.W. Ashworth Place, in Topeka
Miles Mac 60th Anniversary Reunion 2020
Stahl began organizing annual Battle of the Bulge gatherings for 106th Infantry survivors in December 1995. He said he expected attendance at the reunion for the battle's 60th anniversary to be about nine or 10 survivors of the battle and their spouses, nearly all from from Kansas and western Missouri. He maintains a roster of about 40 former 106th Infantry soldiers.
Miles Mac 60th Anniversary Reunion Photos
'Health-wise, many of us are now facing the ultimate 'termination,' ' said Stahl, 79. 'I know that's a rough word to use, but it's inevitable. And I think sometimes people have gotten tired of hearing us talk about the battle. But we'll keep it up as long as people keep turning out.'
By the time U.S. and other Allied forces finally pushed the Germans back to pre-battle positions at the end of January 1945, Allied commander Gen. Dwight D. Eisenhower had poured an additional 250,000 U.S. troops into the 80-mile-long Ardennes breach, the largest number ever assembled for a single battle.
Bill Stahl was a member of the Army's 106th Infantry Division, which landed in France just a week before the Battle of the Bulge, a German counter-offensive during World War II.
Miles Mac 60th Anniversary Reunion 2019
U.S. forces suffered with more than 80,000 killed, wounded or captured, resulting in the heaviest single-battle toll in U.S. history, according to military historians.
About half of the American losses in the battle represent prisoners captured by the Germans during the early days of engagement, said L. Martin Jones, of Lawrence, a former second lieutenant with the 106 Infantry.
Jones spent about 110 days in German POW camps, as did Stahl, before being liberated in late April 1945 as invading U.S. troops overran the western sections of the Third Reich.
Jones said he has attended eight of nine previous 106th reunions, all of which have been conducted in Topeka.
'It's impossible to explain to someone not in the service the bond that is developed when you are fighting and your life depends on your next-door neighbor and his depends on you,' Jones said. 'You work together, and there is a bond that develops that is lifelong.' (The Capital-Journal)